There are children growing up right now with no hope for the future. They are growing up in this fallen world and don't know that there is a different way to live other than what they've always seen. Jesus' love makes a difference in every aspect of our lives. Right now we have the opportunity to share Jesus' love with them and to share hope for their future. We have a chance to show them the way to the kingdom of God. Join us in reaching children all across Oklahoma City this summer by becoming an IMPACT Sponsor!
Ways you can invest and make an eternal impact this summer:
Paper for Flyers - $750/total
Local churches and our team canvass the neighborhoods, letting families know about the Bible Clubs that will be taking place in their communities. Thousands of flyers are distributed in the summer to reach out to kids! Help us spread the word!
Teaching Curriculum - $55/student
Young adults join us from all over the States to receive training on how to share the gospel and teach children effectively. Curriculum is developed in-house and given to each Summer Missionary to use out in the field as they teach children at Bible Club! Not only are these materials provided for use here in OKC, but our desire is that they will continue to be used as the Summer Missionaries take them back home.
Sponsorship for Team Leaders & RAs - $50/staff
While the Summer Missionaries are here, they are placed in Bible Club teams and discipleship groups for maximum growth, both as teachers and in their personal walk with the Lord. These groups spend a lot of time together throughout the weeks. Team Leaders and Resident Assistants (RAs) have willingly given much of their time and money to invest in their groups. Your money will go towards sponsoring them so that they are able to give and invest more in their teams during their stay here in OKC.
Scholarship funds for Summer Missionaries - $500/student
Pitch in to help cover the cost for a Summer Missionary to come and learn how to share the gospel with children and catch a vision for God's kingdom!
Sponsor a Bible Club - $850/club
Bible Clubs are free for the children and families to attend. Funds given to sponsor Clubs will enable us to cover the cost of running them. Your investment of $850 will sponsor 17 children to participate in a week-long Bible Club!
Sponsor a Child - $50/child
For $100, you can sponsor two children to attend a week-long Bible Club in their own neighborhood.
Banners to Invite Kids to Bible Club - $50/banner
They can't say "yes" if they don't know about it; so advertisement is key! Provide an outdoor banner for churches to spread the word about Bible Clubs this summer.
Translation for Paraguay
God is writing an amazing story through a Spanish church here in OKC. We have partnered with them in the past for several children's ministry programs, and we are now looking forward to working with them again overseas to train up to 100 young adults for children's ministry! In order to do this, we are currently working on getting our Bible Club curriculum translated into Spanish! Our goal is to have the translation finished by the end of the year to be ready for the trip in January!
Transportation & Vehicle Maintenance
During Operation Impact, our teams are running up to two Clubs a day, at two different locations. This past summer, we transported teams to 41 different locations! Your gift will definitely be put to good use in fueling and upkeeping the vehicles that carry our teams and the good news to the children.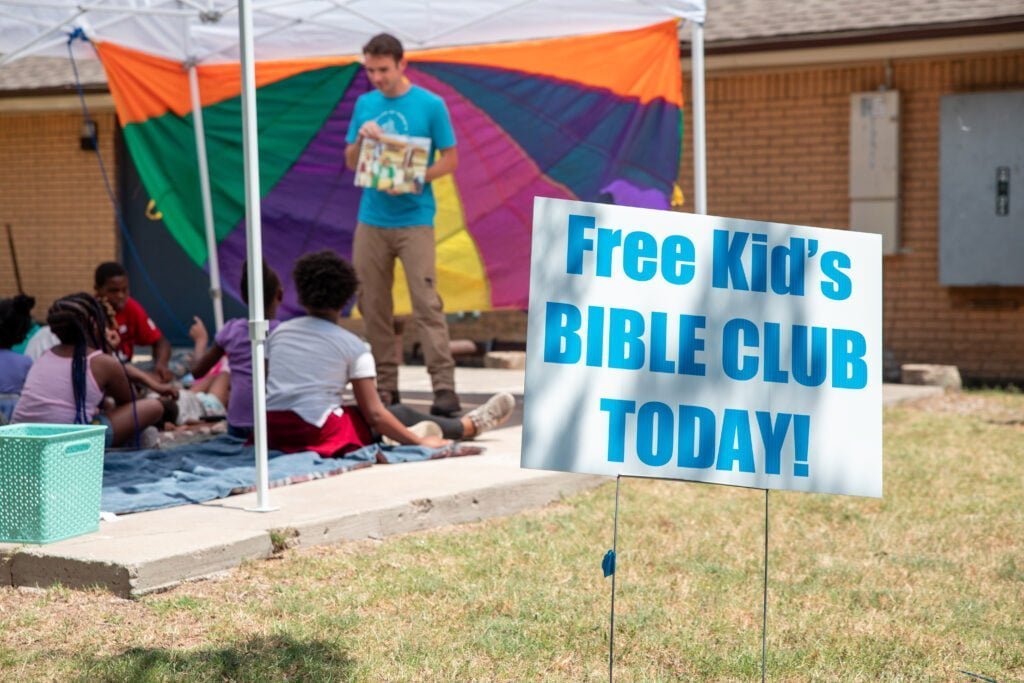 Subscribe to receive email updates